We are delighted that Convey Law were announced winners of the People Development Award last night at the prestigious British Chamber of Commerce Awards ceremony.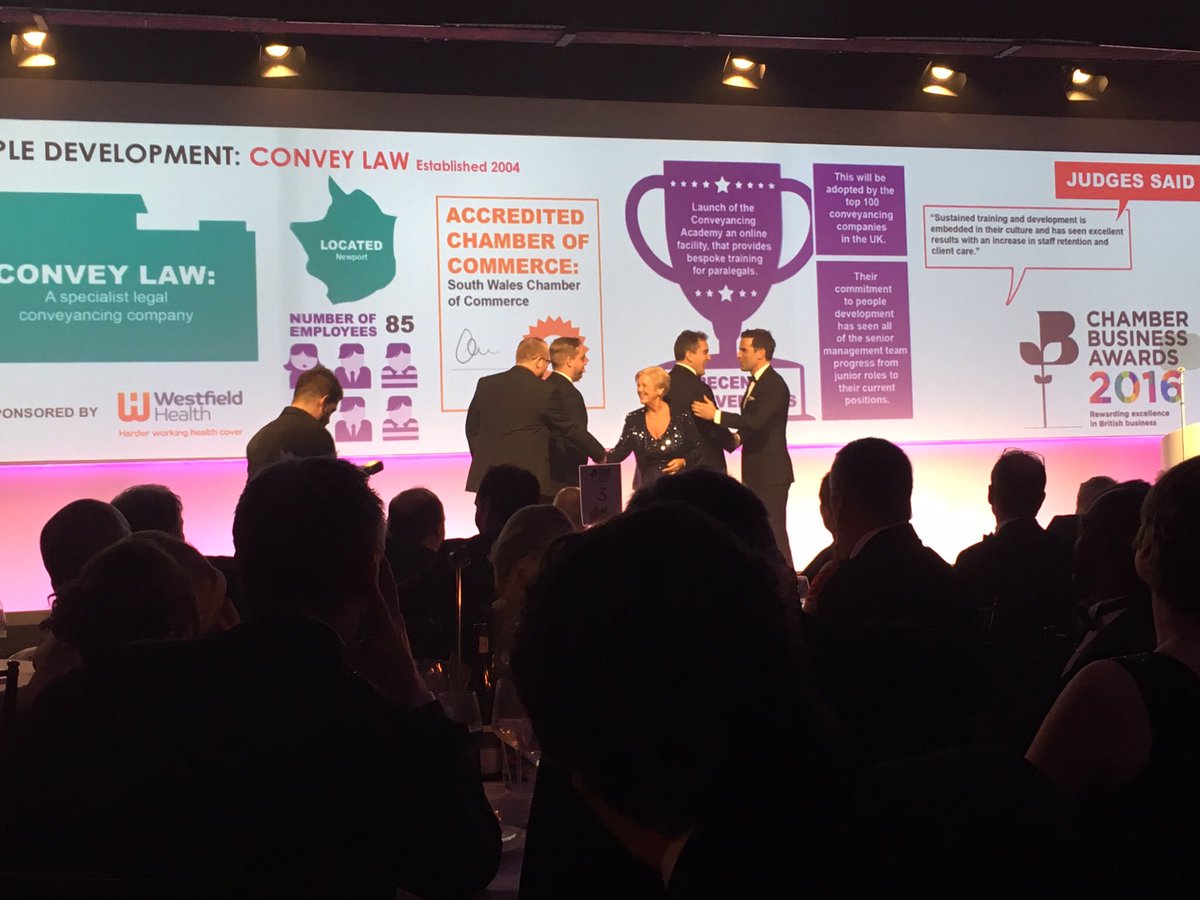 (being presented the award last night with presenter Gethin Jones)
Convey Law won our 'Commitment to Skills & People Development' category and Overall Winner in our South Wales Chamber Awards 2015, presented earlier this year.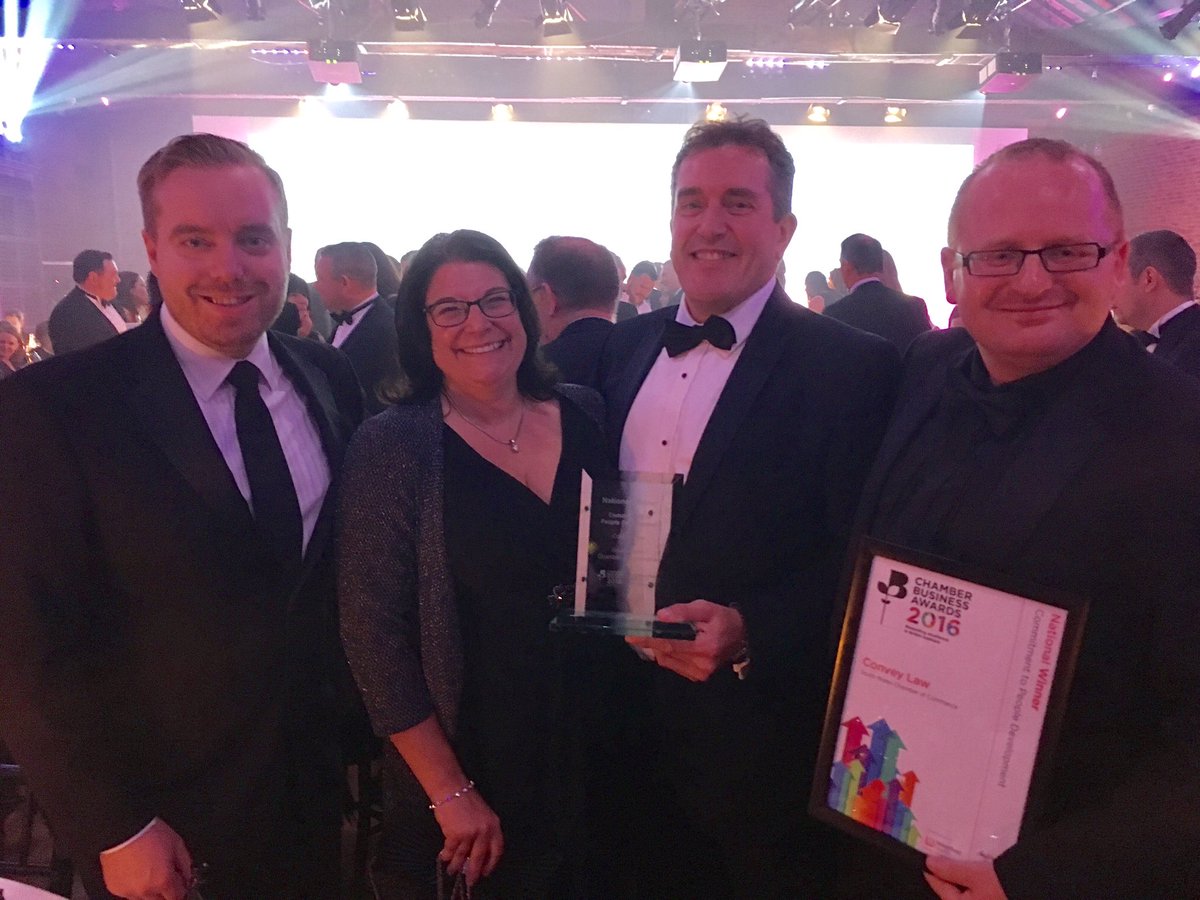 (pictured Convey Law including their Director Lloyd Davies with SWCC Director Heather Myers)
A huge congratulations to Convey Law.  See their awards spotlights here
Two of our other members were also very worthy finalists in the awards.
Sharp Clinical Research

See their Welsh Business spotlight here
and
Pontus Research
Have you got a business you are proud of?  Why not enter our awards like Convey Law and Sharp Clinical Research did.  Its free to enter and you do not need to be a Chamber member, so you have nothing to lose.  The deadline is the 9th December so there's no time to time to waste.  Enter here
More about the Chamber Business Awards 2016: Best of British Business
The very best of British business were celebrated at the British Chamber of Commerce's annual Chamber Business Awards ceremony last night. The Chamber Business Awards, which is now in its 13th year, is one of the showpiece events in the business calendar, highlighting the role of business in delivering growth and prosperity for the UK and local communities.
Businesses from across the country came together at the gala dinner, hosted by TV presenter Gethin Jones, to mark the outstanding achievements of both UK firms and Chambers of Commerce.
The award winners in full:
Export Business of the Year – Scientifica, a designer, manufacturer and distributer of scientific instruments, based in Sussex, which exports to 44 countries around the world and has grown their sales four fold in the last five years
High Growth Business of the Year – Plimsoll Productions, an independent production company based in Bristol, with a focused growth strategy which has seen turnover increase tenfold in just three years
Excellence in Customer Service – AV Dawson, a family run logistics provider in Teesside, with a customer service excellence strategy and efforts to pass on energy efficiency savings to customers
Small Business of the Year – Bee Lighting, a specialist designer and manufacturer of automotive lighting products based in the Midlands, which has invested in training to better equip staff to win businesses overseas, which is paying off as the company continues to export globally and develop links with overseas companies
Best Use of Technology – Groundsure, a South East-based business which provides assessments for commercial and residential sales and developments, and has a user-friendly online system and ability to digitise maps spanning nearly 200 years
Commitment to People Development – Convey Law, a specialist legal conveyancing company based in South Wales, who are committed to training and staff development, and the creation of a facility for online learning for paralegals, which will be used by the top 100 conveyancing companies in the UK
Business and Education Partnership – Castle School Education Trust (CSET), with its 'Premium Partners for School' scheme which aims to prepare young people for the world of work, and runs initiatives to raise aspirations, inspire enterprise and foster employability among pupils
Chamber of the Year – St Helens Chamber, has a high market penetration rate of 20% and high level of engagement with the rest of the Accredited Chamber of Commerce network
Excellence in International Trade Services – East Midlands Chamber (Derbyshire, Nottinghamshire and Leicestershire), has expertise on trade links, and in-depth knowledge of their market and who they are serving
Most Effective Campaigning – West and North Yorkshire Chamber, had a successful campaign to lobby HS2 to create a single station in Leeds to maximise the economic benefit to the region
Excellent in Membership Services – Northamptonshire, Chamber has a redesigned membership proposition, including the introduction of fourteen new training courses
Scientifica also won the award for Business of the Year, and as a prize will be invited to open the London Stock Exchange on the 13th of March 2017, the day the Chamber Business Awards 2017 are launched.
Commenting on this year's awards, Francis Martin, President of the British Chambers of Commerce (BCC), said:
"These awards are the perfect opportunity to thank British businesses, of different sizes and sectors, for their contribution to the UK economy. I am constantly impressed by the determination, innovation and the contribution made to local communities by business. I look forward to seeing the winners and finalists of our awards continue to prosper, creating more jobs and opportunities for our nation."
25 November 2016